Today's point to ponder is brought to you by...


So many of us started out our working life by sitting at the side of a road, at the end of our driveway with a sign that read, "Lemonade." It's almost a childhood rite of passage to try and earn some extra money by selling lemonade, kool-aid or cold water on a hot day.
I can't tell you how many times while riding my police motor or driving the squad that I would stop at a lemonade stand and buy a glass and talk with kids and parents alike...brings back sweet memories of happy kids, appreciative parents and a kind of interaction that went unnoticed but never unappreciated.
Sgt. Ben Becchetti + Officer Dave Pecoraro of the Palo Alto Police Department know that exact feeling and they shared their love of community building through taking the time to chug back some lemonade, sharing a laugh with kids, letting them see the inside of a police car and learning more about serving and protecting with Lieutenant Zach Perron.
Lt Perron got to thinking and saw a great opportunity to get more of the Palo Alto Police involved with this form of community outreach and invited the public to let them know where road side stands were so that officers could indulge on a hot summer day.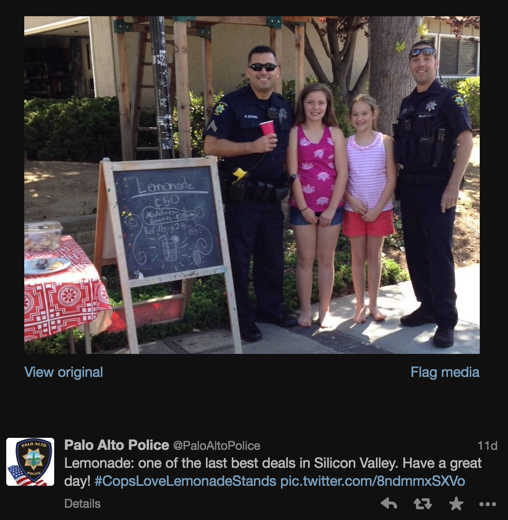 The feedback from the community has been amazing and the initiative is spreading across the country. This once unseen form of community building now can now be seen through the use of social media.
#CopsLoveLemonadeStands is being embraced by police officers and agencies because of how simple it is to take part in and how much of a positive impact it has in their communities.
How much good will is being created with communities by a simple act like this? What kind of price tag can you put on leaving a lasting, good and positive memory in the mind of our youth?
Get out there and join this movement...who knows, in the winter we can swing back for a visit becasue, #CopsLoveHotCocoa
Lt. Perron also wrote an excellent piece about this for the International Association Of Chiefs of Police: http://blog.iacpsocialmedia.org/Home/tabid/142/entryid/423/Default.aspx
Take a look on Twitter at the hashtag #CopsLoveLemonadeStands to see how great this is.
Thanks to Lt Perron for joining on The Police Podcast today. You can follow along with the Palo Alto Police on social media:
Twitter https://twitter.com/PaloAltoPolice
Facebook https://www.facebook.com/PaloAltoPolice
Nextdoor https://nextdoor.com/
YouTube https://www.youtube.com/user/PaloAltoPolice
Flickr https://www.flickr.com/photos/paloaltopolice
Lt Perron on Twitter https://twitter.com/zpPAPD